Jackson High School
Class Of 1964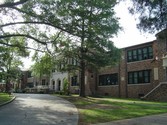 ANNOUNCEMENTS
Jackson High School ALL-CLASS Reunion

June 4 from noon-5:00 PM at our old high school building on Allen Ave. in Jackson (now called Madison Academic Magnet High School.
Registration begins at noon. Everyone who ever went to JHS is invited. No charge, just a donation.
Refreshments in Cafeteria, visiting with other alumni, and a great program in the auditorium at 2:00 PM where teachers and all classes will be recognized, then a video history of Mr. Tury Oman plus another short video of interesting and funny "Moments to Remember at JHS". All who had Mr. Oman as a teacher or coach will enjoy the video, so don't miss it. Hope to see many of you there.
Mimi Roland Allen
Welcome JHS Classmates and Guests! Thanks for coming by! If this is your first visit, get started by making your profile. Personalize it by adding pictures, You Tube Videos, and Playlists. Discover how to do it all on the "Site Help" link to the left! Share your page with your classmates, family, and friends. As time goes on, please remember to keep your profile up-to-date with current contact information, and enjoy using this site as a portal to reconnect with old friends between graduating years.
GET STARTED: Look to the left of the page and find "Classmates" then select "Classmate Profiles." Click on it and find your name there. Click on your name and it will take you to a page that says "Join Here." Then "Click here now" and follow the instructions of adding your email and password so you can interact with your classmates. You don't have to finish it all at once. Come back whenever you want to add to or update your information, or add more photos.