Jackson High School
Class Of 1964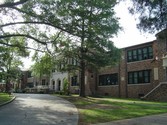 ANNOUNCEMENTS
TO ALL JHS ALUMNI WHO KNOW AND LOVE EDYTH WORTHY:
Here is something you really need to do immediately if you plan on contributing to a book we are compiling for Ms Edyth Worthy. The sooner you can send your tribute the better as the Reunion Committee has much work to do to prepare for the 2018 All-Class Reunion. So please make it a priority if you can. The cutoff date is May 15, 2018.
Now is your opportunity to express to Ms. Worthy your thoughts and feelings about her impact on your lives through all the years you have known her. Here's your chance to participate in honoring her at the JHS All-Class Reunion on June 2 by mailing a card or letter to the All Class Reunion Treasurer, Annie Scott (address below) which will be assembled into a Tribute Book and presented to her at the reunion.
Your card or letter should tell Ms. Worthy something you remember about her at JHS or through your friendship over the years around Jackson. Just let her know much she means to you, or how she influenced you at JHS, or how she influenced you in pursuing your own career.
The Reunion Committee may choose a few to read to her at the reunion, but all tributes will be given to Ms. Worthy in the form of a book.
Hopefully some of you will have something funny or really memorable to tell her in your card or letter.
She will love receiving tributes from her "children" since we are the children she never had and she will love reading them all at her leisure.
Mail your card, letter, or note to
Annie Wilson Scott, Treasurer
Jackson High School All Class Reunion Committee
55 Central Lane
Jackson, TN 38305
Please do not post the tributes you plan to have placed into the book on facebook as we want them to be read when after receives the book.
If you prefer to send your tribute as an email which will be printed for the book, contact Annie Wilson Scott for instructions.
Welcome JHS Classmates and Guests! Thanks for coming by! If this is your first visit, get started by making your profile. Personalize it by adding pictures, You Tube Videos, and Playlists. Discover how to do it all on the "Site Help" link to the left! Share your page with your classmates, family, and friends. As time goes on, please remember to keep your profile up-to-date with current contact information, and enjoy using this site as a portal to reconnect with old friends between graduating years.
GET STARTED: Look to the left of the page and find "Classmates" then select "Classmate Profiles." Click on it and find your name there. Click on your name and it will take you to a page that says "Join Here." Then "Click here now" and follow the instructions of adding your email and password so you can interact with your classmates. You don't have to finish it all at once. Come back whenever you want to add to or update your information, or add more photos.