Jackson High School
Class Of 1964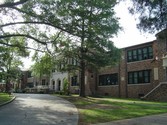 What's New
Here's wishing you a healthy and happy birthday. And may you have many more to come.
Cheers, Donnie Williams

Sponsored Message
I hope you have a wonderful day. Happy Birthday Joyce.
If anyone wishes to see a Cushman very much like Dickie's, I have added a photo to my photo gallery of a similar model with the same color scheme.
Dickie and I had a common interest in electronics, motorscooters and motorcycles. Tom Elam mentions the Cushman, which I knew really well. I helped Dickie do some major engine work, probably around 1962. Dickie was unusual, to say the least. He used to transmit a sound on his CB (yes, he was a ham and a CB operator) to aggravate people. He called it a Q-Bird and it chirped like a bird. I don't see an attachment symbol in this reply section, so I don't know that I can share what I believe to be a sound much like Dickie's Q-Bird. Another unusual thing Dickie did was purposely interfere with a neighbor's TV using some handheld device with an antenna on it. He would do this at night when he could see the TV through a living room window. Maybe I was as unusual as Dickie in my own way and that is why we were good friends until the last time I saw him at the 40th. It made me sad then to see signs of some mental changes. When he was hospitalized and I heard he did not want visitors, that was even sadder. Now I have mixed emotions. Sad - but relieved at his passing. I am going to try to find a way to share my imatation of Dickie's Q-Bird. ........Donnie
Happy, happy birthday Judy!
Donnie Williams
In junior high, when others of us were trying to be basketball players, Robert was the best free throw shooter in the class without any help from Coach Bray. What we needed was a "designated shooter" rule.
Thanks for serving. I did not know you were in Tampa. I am in Palm Bay Donnie
Reading Linda's comment about Tony, I wish that we could know our classmates as grown-up men and women.
Hey Don, You say "prepare and present the music" so I ask, Are You a musician?
Music has always been a major part of my life, whether listening or playing. I mostly play bluegrass, but listen to most everything. I was band leader, guitar player, lead and harmony vocalist and sound man in a bluegrass band for a while, but now I mostly jam at nursing homes and Alzheimer day cares. Jamming involves no stress. it is what it is!
Peace,
Donnie
Posted on: Jul 09, 2016 at 8:12 AM
Hi Joyce, I hope you have a wonderful day on this your SEVENTIETH birthday. Go celebrate all day long! That is my advice, and you know you should respect the advice of your elders. I am almost two weeks older than you, so I am your elder.

Friends for Life, Donnie
Hi Susan, Are the emails to remind us we have not updated profiles in 6 months automated or were you working on your 'puter at 5:30 AM?

I don't see a birthday in your profile info. Why is that?

Have a nice weekend. Donnie

Sponsored Message
Posted on: Jun 09, 2016 at 9:30 AM
Hey Tom, I wish you a happy, happy birthday. May you be happy and healthy for many more years. BTW, you are my elder, old man. Yes, a whole eighteen days older than me.
Peace,
Donnie
Posted on: Jan 02, 2016 at 11:20 AM
Happy New Year to all. 2015 was fantastic for Liz and me. January - ablation on my heart cured my atrial fibrillation. June - Great trip to Canada to visit friends and we had a small family reunion with Liz's remaining relatives in North Bay Ontario. July - successful eye muscle surgery and I just barely need glasses now. No more prisms for double vision. Thanksgiving weekend was spent at a bluegrass festival. I got to play on stage three times. I have added a video and a picture. Oh, another thing, we had two great meals from roadkill. I added a picture of the 5 ft diamondback rattler. I take no heart meds and I am getting back in shape physically.

I hope all of my classmates had a wonderful year. Entering my 70th year was a bit traumatic, but with health doing well, I should not complain.

If that is not enough, I got a new motorcycle. Cheers.