Jackson High School
Class Of 1964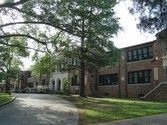 In Loving Memory
Leon (Roy) Grace
Roy Leon Grace

Roy Leon Grace, age 66, a lifelong resident of the Jackson area, passed away peacefully on Friday, October 25, 2013 with many friends and family by his side at Jackson-Madison County General Hospital after a short illness.

He is survived by his wife, Nancy Grace; a sister, Linda Grace; two step-sons, Brian Tims and Jeff (Erica) Thomas; six step-grandchildren, Allen and Bridget Tims, and Landon, Natalee, Toby and Kensley Thomas. He also leaves behind many special relatives and friends whom he loved dearly, and who loved him dearly too.

He was preceded in death by his parents, Ruby Sipes Grace and Floyd Leon Grace.

Roy had been retired for several years. He graduated from Jackson High School and also continued his education at Lambuth College. He served in the Army during the Vietnam War. He was a member of the 82nd Airborne Division based in Fort Bragg, NC. He was a member of the American Legion Post 90 in Jackson, TN.