Jackson High School
Class Of 1964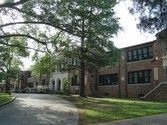 In Loving Memory
William Russell (Buddy) Siler
‪
William Russell "Buddy" Siler, 71, of Mirror Lake, Villa Rica died Friday, February 26, 2016. He was born in Jackson, Tennessee, the son of the late Russell Howell Siler and the late Nell Weathersby Siler.

He received his Bachelors of Science degree from Union University in Jackson, Tennessee, and was a member of Sigma Alpha Epsilon Fraternity. He was employed with Ronpak, Inc. and retired as the General Manager with over twenty years of service. He moved from Chino, California to the Atlanta area in 2000. He was a loving and devoted husband, father, grandfather, and friend. His unparalleled work ethic and laser focus allowed him to be not only a renaissance man, but a true master of every craft he pursued. He poured himself completely into every task and sought in all things to "be perfect as his heavenly Father is perfect." His favorite scripture was Proverbs 27:17 – "Iron sharpens iron, so one man sharpens another." He lived a life of astonishing sacrifice and achievement. May his soul through the mercy of God rest in peace.

He was preceded in death by his parents, and by his eldest sister, Nancy Kay Siler.

He is survived by his wife of forty-seven years, Catherine Buckner Siler, of Villa Rica; his son, Russell Anthony Siler and his wife Tisha, of Chicago, Illinois; his daughter Victoria Catherine Goetz and her husband, Charles of Kansas City, Missouri; his two sisters, Laura Quinn of Houston, Texas and Joann Nobles of Kansas City, Missouri; and his four grandchildren, Reese Anthony Siler, Caden Thomas Siler, Samantha Elizabeth Goetz, and Eleanor Louise Goetz; and one nephew, Russell Quinn of Houston, Texas.

He made a lasting impression on those who knew him. He was well loved and respected, and he will be greatly missed by his family, friends and colleagues.

Messages of condolence may be sent to the family at www.jhoytthomas.com.
The family respectfully requests that contributions be made to the St. Vincent de Paul Catholic Church, 680 West Memorial Drive, Dallas, GA 30132 in memory of Mr. William Russell Siler.