Jackson High School
Class Of 1964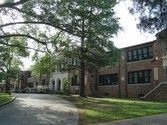 In Loving Memory
David Walker
David Wayne Walker, age 69, passed away Friday, November 6, 2015 at his home surrounded by family.
David was born December 15, 1945 in Jacksonville, IL. He moved to Jackson, TN at 2 years of age. He attended St. Mary's Catholic School, Jackson High School and graduated from West TN Business College. He was a self-employed business owner for over 30 years before retiring. David loved hunting and fishing and enjoyed telling stories about them even more. He also enjoyed cheering on his Tennessee Vols, especially when they played Alabama! He loved his family and enjoyed spoiling his 7 grandchildren. He was an incredibly selfless and loving man and will be greatly missed by his friends and family.
David is survived by his 2 daughters, Michelle Lester (Charles) and Tracy Dillon (Kevin); his 7 grandchildren, Emily and Josh Lester, Graydon, Grant, Garrett, Gage and Gabbie Dillon, and his sister, Karen Wilson.
He was preceded in death by his father and mother, George and Florece Walker, and his wife of 18 years, Juliet Walker Neese.